We are delighted to introduce Samantha Glory Guiate Simo and Wilson Tsuata as our first MATH+ YAM Fellows of the Young African Mathematicians (YAM) Fellowship Program for the academic year 2023/24. They just arrived and will stay in Berlin until 30 June 2024. As YAM fellows, they are also a part of the Berlin Mathematical School (BMS) for the duration of the YAM program. Congratulations, and welcome to the MATH+/BMS community!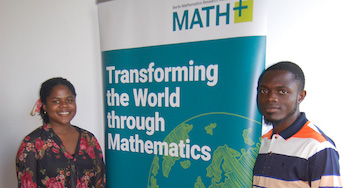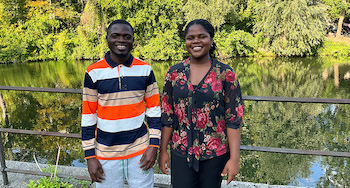 Photos: © Beate Rogler / MATH+

Samantha Glory Guiate Simo received her bachelor's degree in mathematics from the University of Yaoundé I, Cameroon, in 2020. She was also a master's graduate in fundamental mathematics at this University. In June 2023, she completed the one-year master's program at the African Institute for Mathematical Science (AIMS) Cameroon. Her thesis focused on numerical analysis of stochastic differential equations. Commenting on the fellowship, Samantha said: "Participating in this program, YAM, and being part of the BMS is a great opportunity for me. I will have the chance to meet and work with important mathematicians who share the same interests as me. I do not doubt that these nine months spent in one of the German Clusters of Excellence, MATH+, will significantly enhance my skills, and I am very excited to begin."

Samantha will work together with Ana Djurdjevac, Junior Professor of Numerical Analysis and Stochastic at Freie Universität Berlin (FU). Thus, she will be enrolled as a master's student in mathematics at FU Berlin. Ana Djurdjevac on her new fellowship awardee: "I believe that YAM is a great program, and I am delighted to be part of it. Samantha and I already met during the Second Berlin-Leipzig Fluctuating Hydrodynamics workshop organized at FU, where she met some of the people from stochastic and numeric. I am enthusiastic about our upcoming discussions and work."

In Berlin, Samantha will take classes for a few months at FU Berlin and then work on a research project in stochastics and numerics with her advisor, Ana Djurdjevac.

Wilson Tsuata studied mathematics at the University of Yaoundé I as well, where he obtained his master's degree. He completed a structured master's degree in fundamental science at AIMS Cameroon this year. Wilson developed a particular interest in algebra, especially representation theory and cryptography. About his fellowship, he said: "I am thrilled to be part of the MATH+ community as a YAM Fellow and to have the opportunity to immerse myself in Berlin's vibrant mathematics community. The YAM Fellowship program is a crucial bridge for me to pursue my aspirations of securing a PhD position. I am confident that this program will provide me with the necessary knowledge, skills, and research experience to advance in my academic journey."

Thomas Krämer, Junior Professor of Algebra and Number Theory at Humboldt Universität zu Berlin (HU), will be his advisor while studying in Berlin. That means Wilson will also be enrolled as a master's student in mathematics at HU Berlin. Regarding the new fellowship program, Thomas Krämer says: "The YAM Program is a great opportunity for everybody involved. Talented students from AIMS will gain a unique research experience in a German Excellence Cluster in mathematics, establishing new connections as they take the next steps in their careers. Likewise, the life at our departments will profit a lot from the diverse perspectives brought in by the YAM fellows."
In Berlin, Wilson will closely collaborate with his advisor, Thomas Krämer. He wants to make significant contributions to the field of mathematics during his study stay in Berlin while establishing lasting connections with fellow mathematicians from diverse backgrounds.
—
About the YAM Fellowship Program:
The
Young African Mathematicians (YAM) Fellowship Program
is a collaboration between five of the African Institutes for Mathematical Science (AIMS) and four German Clusters of Excellence: Hausdorff Center for Mathematics (Universität Bonn), Münster Mathematics (Universität Münster), STRUCTURES (Universität Heidelberg), and MATH+ (Berlin). The YAM program welcomes talented African students in mathematics to join one of the four clusters for nine months. They can take courses and seminars and gain experience in working on research projects.