On the warm and sunny evening of Friday 27 May 2016, a mixture of 18 BMS students, staff and family members walked, skated and ran in the 2016 Berliner Firmenlauf.

In total, almost 14,000 people flocked into Berlin's city centre to take part in the run spanning a distance of 5.5 km. Starting next to Brandenburger Tor, the course wound around the streets on the edge of Tiergarten and finished just past the Soviet War Memorial on Strasse des 17. Juni.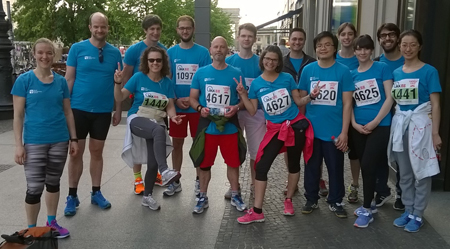 The fastest runner for the BMS was the One-Stop Office staff member David Reich (24:16 min). He was followed by Phase I student Jan Corsten (27:07 min), and joint third out of the 12 BMS runners were Phase II student Ariane Papke and her husband Martin who crossed the finish line together (29:27 min). Naturally, the two BMS skaters finished a bit quicker and the four walkers a bit slower, but the team spirit was in top form and everyone enjoyed the great atmosphere at the event.

All the results are available on the official Firmenlauf website and everyone who completed the run can download their certificate and access a video clip of their victory dash over the finish line too.

The Berlin Mathematical School supported its team by providing BMS t-shirts and reimbursing participation fees. Hopefully many more members of the BMS will be motivated to take part next year!