On Friday 8 July 2016, the BMS Certificate Ceremony took place in the Goethe Saal at Harnack Haus in Berlin's leafy residential district of Dahlem.
After the final BMS Friday Colloquium of the summer semester given by Dr. Henry Cohn (Microsoft Research New England/MIT), BMS students, friends, family and BMS faculty, staff and guests joined together to celebrate the academic achievements of 13 BMS Phase I graduates and 67 BMS Phase II graduates.
The certificate ceremony began with a welcome speech by the new BMS Chair, Prof. Günter Ziegler, who urged the recent graduates to be proud of what they have experienced, learned and achieved, and to take this as a basis to do (more) great things!
Certificates of Completion were awarded by the BMS Dirichlet Postdoctoral Fellow, Dr. Maryna Viazovska, to the students who completed Phase I in the last 18 months by passing the BMS Qualifying Exam. Certificates of Distinction were awarded by Dr. Cohn to the Phase II students who completed their PhDs in the same period.
The ceremony also included musical performances by Unität, the Studentenwerk Berlin's "choir for all" led by musical director Sven Ratzel. After receiving their certificates, the BMS graduates gathered in the garden for some photos and then made their way to the Planck Lobby for the celebratory reception.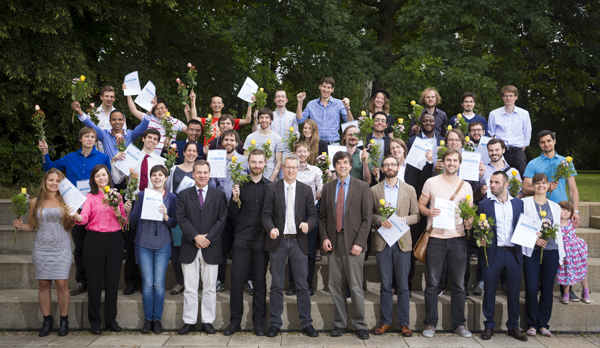 BMS Phase I graduate, Patrick Da Silva from Canada, said "The ceremony could not have been better, the time and place were perfect and the set-up was very soothing, which is totally appropriate to celebrate years of hard work!" Irena Bojarovska from Macedonia, a BMS Phase II graduate, also enjoyed herself: "It was such a great possibility to see the familiar BMS faces again and celebrate our success together. I had a great time and enjoyed the cheerful collection of songs by the choir, and the very delicious food. The location was also excellent. All in all, it was yet another great BMS event! I am so happy to be in Berlin still and have the possibility to remain an active member of the BMS family."
Over 200 people attended on the day and we would like to thank everyone who joined us in celebrating the academic success of our students. Not all of our graduates were able to attend the ceremony, so we would like to take this opportunity to congratulate everyone. Well done, we are very proud of you all!